Glass Touch Panel
Features
1.Reliability
With superior environment-resistant characteristics and sealed double-glass structure, it is usable under harsh environments such as within vehicles under a scorching sun.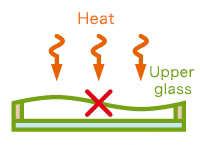 Since it is resistant to deflection on the upper glass due to heat,
it maintains a beautiful appearance even under harsh conditions.
2.Low reflection
Circularly polarizing film suppresses reflection and ensures visibility even in sunlight.
3.Hight transmission
The highest level of transmission among resistive touch panels has been achieved by combining the inherent transparency of glass and the AR coat/optical film. This maintains the fineness of the screen's image.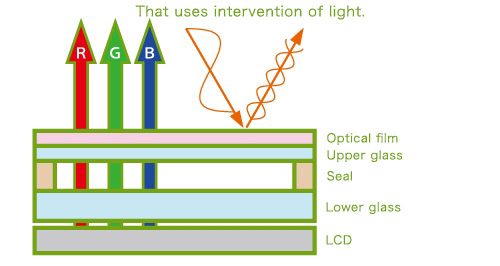 4.Industry first! Development of low load TP compatible with multi-touch
※ In the G / G resistive film method
By significantly reducing the load compared with the conventional G / G, light multi-touch input is realized.
By sealing the two glasses, it corresponds to use under harsh environments such as in the car under the scorching sun.
It is hardly affected by noise such as electromagnetic waves.
It is excellent in waterproof and moisture, and there is no malfunction due to waterdrop adhesion.

Pinch in / out operation which was impossible up to now with G / G resistance film TP is also possible with simultaneous detection of low load TP!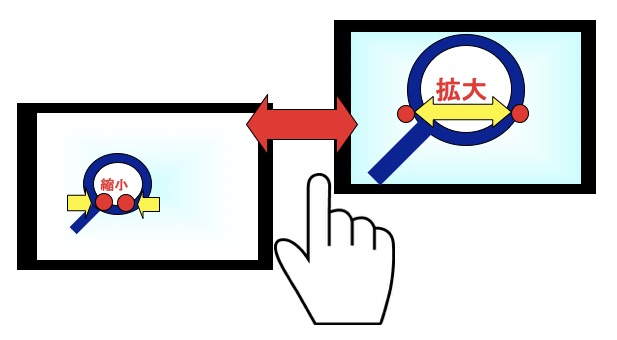 ROHM IC Pair with BU 21028 FV - M to enable flick operation function!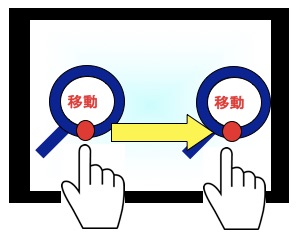 5.Custom correspondence
We will develop a new 4-wire analog resistance membrane system. Analog resistive film type G / G touch panel
Please consult TechnoPrint for any projects that were refused by other companies due to small lot and we gave up.
・We support replacement of F/G ・ G/G which was discotinued at other companies.
・Secure high reliability of safe domestic design and manufacturing in Japan
・Custom correspondence to low load possible
6.Sample of the applications by G/G touch panel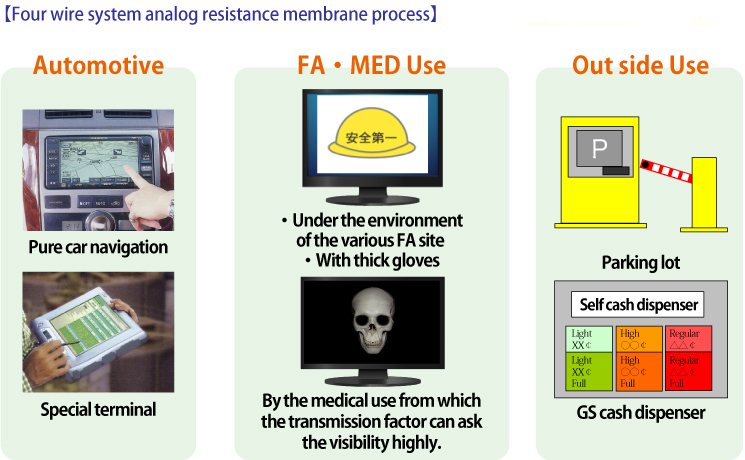 About Processing
Processing size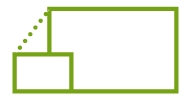 Production capacity

Standard Products
Standard glass touch panels
Type
Size(inches)
Dimensions(mm)


E:External form
V:View area
A:Active area

FPC position
Key applications
ZTP65-30GRF02
6.5

E:154.5x90.76
V:145.4x80.66
A:142.4x77.66

Car navigation system
Rugged PC
Tanker plane
FA・medical monitor
Parking system

ZTP7-08GRF01
7

E:173.0x106.0
V:160.5x92.0
A:157.5x89.0

ZTP8-54GRF01
8

E:191.0x120.0
V:178.8x107.3
A:175.8x104.3

ZTP104-04GRF01
10.4

E:228.4x172.5
V:211.4x158.5
A:207.4x154.5

ZTP121-05GRF01
12.1

E:272.0x203.5
V:251.0x189.0
A:247.0x185.0

ZTP121-24GF-01
12.1

E:261.0x199.0
V:247.08x188.32
A:243.08x184.32

ZTP151-06GF01
15.1

E:323.9x244.2
V:306.9x230.2
A:302.9x226.2

ZTP171-25GRF01
17.1

E:376.6x282.2
V:353.6x264.7
A:337.6x250.7
Note:No initial cost is required for the standard products, but they are not alwats in stock
(in principle, production is done by order)
Standard Spec
Standard Specifications for glass touch panels
Standard products
| | |
| --- | --- |
| Operating temperatures | -30℃~85℃ (at a relative humidity of 90% or less without condensation) |
| Storage temperatures | -40℃~95℃ (at a relative humidity of 80% or less without condensation) |
| Load during operation | 0.2~1.96N (varies depending on the configuration) |
| Surface hardness | 2H or over |
| Rated voltage | 5V |
| Rated current | 25mA or less |
| Linearity | 3% or less |
| Hight temperature test | 95℃ for 480 hours |
| Low temperature test | -40℃ for 480 hours |
| Heat shock test | (-40℃ for 30minutes and 85℃ for 30minutes)x500 cycles |
| Impact test | Iron ball(11mm in diameter and 5.5g in mass)dropped from a height of 1 meter |
Panel Configuration
Configuration of a typical glass touch panel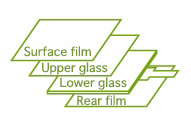 Glass material specifications
Upper glass thickness:0.2mm(0.1~0.3mm)
Lower glass thickness:0.4mm、0.7mm、1.1mm、1.8mm
Size:inches(custom design available)
Optical material configuration
| | | | | |
| --- | --- | --- | --- | --- |
| Grade | Surface film | Rear film | TP cell | Transmittance |
| SD | AG/AR film | N/A | Standard | 85% |
| HT | AG/AR film | AR film | Standard | 86% |
| ST | AG/AR film | N/A | Highly transparent | 91% |
| ET-1 | AG/AR film | N/A | Ultra-Highly transparent | 94% |
| ET-2 | AR film | N/A | Ultra-Highly transparent | 96% |
| Polarizing plate | Circular polarizer | Phase shifter | Standard | 75% |
Patents
2004 Patents relating to glass and glass touch panel granted in Taiwan and China.
2006 Patents relating to glass and glass touch panel granted in Japan and Korea.